werepuppyblack
... I have no reason for the title other than the song coming into my head. That, and I received goodies in the mail that I had saved up for and am excited they are here and want to share them with you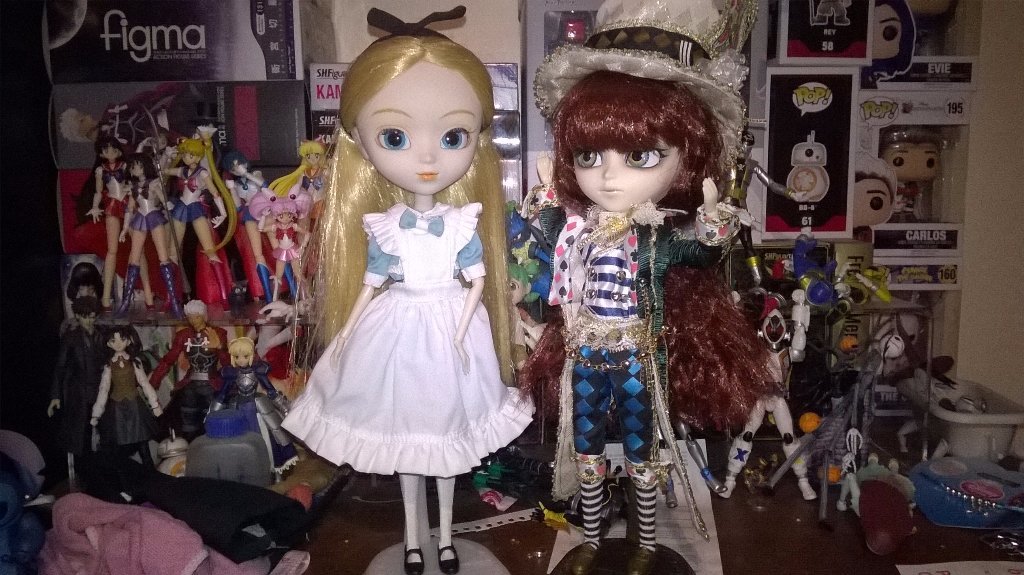 First off: I need to apologise for the mess behind them. I've been re-organizing my figure display lately and I am still not happy with it. I've got a feeling a lot of them will end up back in their boxes for a while, while I work out what I want to do. Also, sorry for photo quality, I took it with my phone.
Anyway: yes! Pullip Fantastic Alice from the Regeneration series, and Isul Classical Mad Hatter. They're both really adorable and I never realised just how big the boxes for these dolls were. I think I may need to take the braid spray and wig comb to Isul's hair because it feels a bit tangled. It's also very big and makes him a little inclined to lean back. Alice;s is very easy in comparison, and just needed a quick comb through to be presentable.
My first Pullips! I am so excited, and somehow very unsurprised they ended up being related to a book I like. If I was going to chose any other to save up and get next, it'd likely be Anne Shirley. I don't know if I will, but it's a thought that's on the back-burner. For now, I'm just going to really enjoy having these two around and hopefully take some nice pictures.